---
---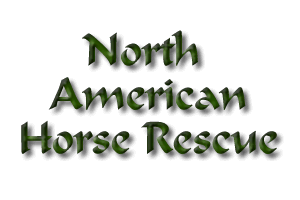 Hello again! This page was last updated on January 20th, 2000. Below is a list of just a few of the large selection of horses we have at NAHR. If you are interested in adopting any of them, please fill out the form at the bottom of the page. If you would like further information on any horse, e-mail me at EMINIMI@aol.com. Please visit the Happy Horse Adopted page to see whose been adopted this month! *Note: There is a three horses per person per month restriction. This means you can only adopt 3 horses a month. Make sure also that you only request to adopt one horse at a time, or else you probably wont get any of the horses you requested. So you must wait a while (*atleast* a week) until you adopt your second horse, and same with your third.*
ALL HORSES STILL NEED TO BE REGISTERED IN HORSE FEVER

A huge thank you comes from all the workers at NAHR to Michele who graciously gave $100,000 to the North American Horse Rescue. I would also like to add a very special thank you to you to The SE Stables for contributing a much thanked and needed $70,000 to the NAHR, specifically, she said, for the care of mistreated horses. This money was greatly appreciated and it has been put to use already by buying new horses and getting them the feed and treatments they need! Thanks again Michele and SE Stables! Also, I would liketo thank Dawn Princess' children, Diane, Lauri and Alanna and Michele's little cuties Genesis and Damien for helping out at the short-handed Norco Division!!






Jolly King
Jolly King fits this 2 year old dark brown TB colt like a round peg fits a square whole. He is quite the sorrow king if you ask me. He just kind of lazes around and follows you like an old dog. However, he is quite a devil in the saddle. Evidently he hasnt had very good or very much training. He sure runs like the dickens when you get him going but he tires out really fast, so sprinting may be the way to go with this one! Of course, if its a real short sprint like 5½ furlongs, then you may not be able to stop him for a furlong or 2.


          King Delux
     Jolly Jack
          Happy Go Lucky
Jolly King
          Feather Heather
     Furthermoor
         Ungrateful Missturi

I need a confermation on this colt from Falada (I think thats who wanted him, if it was you and not her, please e-mail me). If no e-mail is recieved in 1 more week, he will be back up for open adoption. **ATTENTION: THIS COLT IS BACK UP FOR ADOPTION**




Monte
Monte is one of 2 mustangs that we bought from a woman who had adopted them from the BLM a year ago and just got too much than she could handle. The mustangs are in good health and are definatly well-fed, but they have been living in a dirt paddock for over a year with out any turnout or excersize. Monte has evidently had a halter on the entire time becuase he had a halter on when he came to us that had to be cut off from him, we couldnt undo the buckles. He is a little people-shy, but if you have food he is quite out-going. He is still a stallion and we probably wont be able to get him gelded while he is here, but he would probably make a nice start for a mustang breeder or improve the stock of some less hardy riding ponies. We think he is about 4 years old, so he shouldnt be too hard to gentle. Once trained, he looks like he could probably do very well at Western Horsemanship, Pleasure, Trail, Barrels, Poles, Key Hole, etc. And, as you see, since he is so absolutely gorgeous, he could definatly do halter. Located in the Mexican Division.



Lila Ganuaga and Star
Lila was the mare that was kept in the paddock with Monte (above). Monte inevitably impregnated her during the year since Lila arrived to NAHR heavy with foal. A few days later she was found with a strong little filly by her side. The filly is as people oriented as her mother would allow and she seems like she will be a very nice little gymkahna horse with the right trainer. The dam could also make something of herself in the showring as a performance horse too. Lila is about 3 years old and the filly is 1 week. And, of course, they go together as one. Located in the Mexican Division.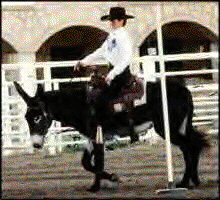 Jacko
Jacko is a cute little sweet as can be Jack donkey. He is tiny tiny and just loves affection. He has been ridden and he is such a laugh! He loves to go and even with his stubby little legs he can really book it! He is very well trained and not stubborn at all! He would be adorable as a little kids Western Pleasure mount! He can jump too! The owner who gave us this little dream says that she may have to give up "Jenna", her Jenny donkey and then this little guy can have a mate. Located at the Mexican Division.

Bri Bri
Information provided by NAHR Horse Scout Jessica.
While I was out playing with Thowra, Thowra led me to a shabby mare and foal. The foal was incredibly thin. The mare was also week but wanted to trust me. She had obviously had some great handling from someone with lots of love. After we took them home, I found out that the mare had a tattoo on her upper lip wich qualified her as a TB. After a nice warm bath I saw that the mare indeed was a beautiful light strawberry roan and the colt was SILVER. This meant that Thowra had to have been his sire for the coat was a givaway that only Thowra and his colts had.

Mare's Pedigree-
           Tequila Sunrise
   Bright Sunrise
           Bright Days
Bri Bri
           Of The Day    
   Soupe De Jour 
           Bisque

Colt's Pedigree-
      Yaraman
   Thowra
      Bel Bel
Choopa (means little lizard)
      Bright Sunrise
   Bri Bri
      Soupe De Jour


I later found out that Bri Bri was owned by an old man who had a heart attack and his grandson left the mare there because she was so heartbroken over the oldman. So she was abandoned and hurt by her love. Will probally be hard for her to trust.Located at the Virginia Division.

Hundred Watt
Information provided by NAHR Horse Scout Michele.
Her breeders are a small operation in Topeka, Kansas. When she was born a palomino, they thought she would be "weak" and "unraceable". So, they gave her to a family down the road from them who happened to be the family of some of our grooms at Gateway. We were told of the filly, but have no more room in our barns. She's got great racing potential and has developed into a beautiful filly of 15.3hh already. She'll make someone happy on the track or as a future broodmare. Info:


Hundred Watt
Yearling
Filly
Palomino
Thoroughbred
Summer Quest x Android (by Native Son...by Native Dancer)

Located at the Norco Division.

Princess Zip
Information provided by NAHR Horse Scout Michele.
While waiting for our horses to finish their races at a track in Florida, we saw one of the pony horses stumble and fall to the ground. Her rider fell face first into the mud then proceeded to get up and beat the horse. My trainers were witnesses to this event and reported the rider to the officials. This person had been reprimanded before and the SPCA was notified immediately. We later found out that the mare had given birth only that morning to a beautiful half arab filly. We are retaining the filly for show purposes, but feel that the mare would be best at one of the NAHR facilities. She has no physical problems, her fall was due to the fact that she had just delivered her foal and then had been worked into the ground and was exhausted. She'll make a great kids horse and/or pony horse for the tracks. I suggest a home with lots of kids as she seems to love them. Info:


Name:  Princess Zip
Age: 11 y/o
Gender: Mare
Height: 15.2hh
Sire:  Zippo Pine Glow
Dam: Shesa Cool Skipper
Located at the Canadian Division.





Traveling Trooper

Information provided by NAHR Horse Scout APHA. 

Traveling Trooper was removed from small holding pen.  She was up to at least knee deep in mud.  She had a server case of mud fever.  Traveler was also found to be pregnant.  She had her foal three days after she had been our care.  Unfortunatly, it died instantly.  Traveler guarded this foal for over a 24 hour period before giving up on trying to revive the colt.  It was a very devastating picture for anyone to see.  Traveler has made a full recovery and is now slowly getting in shape and is almost ready to ride.  She is very  easy to work with and is and attentive, quick learner. She is a purebred bay TB mare, 8 years old standing 16hh. She is by Trooper VII and out of Traveler's Delight. Located in the Virginian Division.





Starbright

Information provided by NAHR Horse Scout Katie. 

We found A Touch Of Sun (below) pregnant with Starbright in a small pasture along with a young foal, Sweet Lips, in a small pasture together.  Sweet Lips' mother had already died from dehydration, and had we reached the others any later, they would have faced the same fate.  There was no water in the pasture, and only a few patches of grass.  Starbright was born a week later, and beause of the condition of her mother, we didn't think she would make it through the next week.  But the strong little filly pulled through and gave us all a lesson in courage.  It seems that she had no previous human contact, but it only took 2 weeks for her to warm up to us!  She is extreemly intelligent and very willing.  She would be great in Western, English, jumping, roping, dressage, just about whatever you can think of!! She's a purebred 4 month old paint out of A Touch Of Sun. 
Located at the Mexican Division.





A Touch Of Sun

Information provided by NAHR Horse Scout Katie. 

This poor young mare was heavy with foal when we found her.   She is still scared of people, and was obviously beaten.  She needs somone who will work with her, and get her used to humans.  If she can get used to people she will be a great horse.  She is a good prospect for halter and Western or English pleasure since slowness comes naturally with this mare. She is a 3 year old purebred paint.
Located at the Mexican Division.





Sweet Lips

Information provided by NAHR Horse Scout Katie. 

Sweet Lips was found with A Touch Of Sun and Starbright.  She was in rather good physical condition, but she was obviously mourning the death of her dam.  She was constantly nudging the dead body, and she fought us terribly when we lead her away.  She immedietly bonded with one of the NAHR Volunteers, and she is doing much better.  She will need work, and she is a one person horse, so she would prefer to be trained, handled, and eventually riden by only one or 2 people.  She would not make a good lesson horse, but once you bond with her, she will do anything. She is a purebred 9 month old paint.Located at the Mexican Division.


 


Roadline Susie

Susie is a 7 year old red roan QH mare. She is one of those tall, stocky mares that sort of look like drafts. She stands a chubby 16.1hh and is very well rounded. She has a little excess weight, but with some consistant work she should be OK. Her previous owners didnt want her anymore and they couldnt sell her so we got her. She's very docile and slow, but very long and heavy strided. She probably wouldnt make a classy show horse but she could do Trail Classes with ease. She has large, sound feet and thick legs. Her previous owners claim her to be a real 'Westerny' horse, but I have found jumps with real style and form, although maybe on the heavy side. She could easily be retrained as a children's hunter/jumper or Dressage mount since she does have good movement. She would make a good cross with Warmbloods or TBs or light Draft for a lovely Sporthorse baby. She would have gorgeous American Warmblood babies! (Draft sire). Located at the Canadian Division.





Orgami

Orgy is a 4 year old Morgan stallion. He stands 14.2hh and he probably wont be more than 14.3, maybe 15. Orgy is a very nervous horse and he spooks at almost everything. He needs a very experianced rider. According to his previous owner's friend, he is trained to harness. However we dont have a cart to try him on. Orgy was very neglected and out at pasture for at least the last year, so any harness training must have been long ago. He was brought to us with flayed hooves and after a few baths his color turned completely. He was much darker, nearly black, when we got him. He is very prancy and could probably make someone very happy as a barrel racer. He is very smart though, so with some love he should calm down well and could do downright anything. Located at the Virginia Division.





Domino Dove

Domino is the cutest thing around!! She is an adorable 5 month old Pinto Shetland Pony filly. Domino was brought to us by a young couple who knew nothing about horses. They had actually found the filly in their backyard!! Dommy is very well mannered for her age, but she loves to run and play and frolick like all little foals. Domino will probably mature to around 12, 12.1hh. She will probably make a wonderful children's all around mount for the shows! What a cutey!! Located at the Virginia Division.



More horses are ready to be put up and will be put up ASAP. If you are interested in adopting and animal, the fee is $2,000. Money will be used for buying more horses, updating fascilities, feed, vet and farrier care, etc. 

If you adopt a horse, we have the right to come by and inspect the horse at any period in time. We also have the right to refuse adoption rights to any person, or re-claim the horse if it is not properly being taken care of. Before you fill in the form below, make sure and read the Rules and Regulations For Adopting a NAHR horse

 If you ever happen to get a tip about a horse that is being neglected, mistreated, unwanted, etc., you can e-mail me a picture (optional) and a shortstory about what happened in the horse's past and how you found him/her, etc and I will post it on this page along with your name and we will find the horse a home. Or, if you have any tips about horses that you think may be mistreated, let me know and I will check it out (this does not mean mistreated by the members, I mean like an imaginary horse person mistreating their horses that will become horses in the NAHR, member horses being mistreated should be reported to the SPCA). 


Thank you much and please come back soon to see the always coming and going horses. If you have any questions, feel free to e-mail me. Fill out the below for to request permission to adopt a horse (PLEASE MAKE SURE AND PUT YOUR NAME AND E-MAIL! You would be surprised how many nameless forms I recieve! Any name/e-mailless forms WILL BE DELETED): 







 
 
 

---
---
---